Jill Jaxx has been a professional singer and entertainer for over 25 years and a well known vocal coach for the last 20 years.
As a singer, she opened for Frank Sinatra, Tony Bennett, Bob Hope, Johnny Mathis, Tina Turner, Anthony Newley, Red Skelton, and many others. She's appeared at Caesar's Palace, the MGM Grand-Las Vegas, the Plaza Hotel-NY, the Shubert Theater-LA.,Harrah's in Reno and Tahoe,  and the top arenas and supper clubs in the US. and Canada.
Jill has guest-starred on many TV shows, among them "Happy Days", "The Carol Burnett Show", "American Bandstand", the Red Skelton Show", and over 20 national Budweiser commercials.
At Kansas State University, her singing group won two national contests, ala American Idol, and was signed by legendary manager Bernie Brillstein. Jill learned first-hand the level of training necessary to reach the top. She's studied with the best voice teachers, choreographers, arrangers, record producers and musicians in the world. They all helped shape the teacher she would become. By performing with world-class singers and entertainers in the most pressure-filled venues, including live television, Jill learned what it takes to be the best.
As a recording artist, Jill was signed to four major record labels as a singer, and to CBS-Germany and Peer-Southern Publishing as a songwriter. Owning her own recording studio and then re-locating to Germany, where she recorded for CBS and wrote for other artists. Working for over 20 years on writing and recording hit songs, she knows what it takes to compete in that arena, too.
She recently produced the album "The Impossible Dream" performed by inspirational recording artist, Bill Suarez.
Jill has written for Karaoke Scene Magazine for over twenty years and is their longest-running columnist. Dedicated to helping students' reach their dreams, Jill now teaches singers all over the world to develop their natural ability, and to love their own voice!
Her new book "You Thought You Couldn't Sing--But You Were Wrong!" will be available soon! 
SIGN UP HERE FOR GREAT TIPS, DEALS, AND INFO!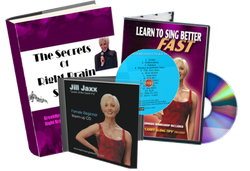 The Quick Fix Tool Kit has tools to fix every singing challenge!
                Tools for breathing correctly
                Tools for support
                Tools for power
                Tools for high notes
                Tools for pitch
                Tools for vibrato
                Tools for breaks and bridges
                And many more!