Lessons
Take Private Lessons! 

You can Take Private Lessons in my LA area studio as soon as we are safe to do so!

With private lessons, you are provided 

the full attention of the instructor

 along with expert guidance and instruction that is carefully focused on developing your voice and getting the richest tone you can from it.

  
TAKE ZOOM LESSONS!

 

The immediacy of the Internet, plus my inherited ability to see exactly what tensions are occurring , combined with hearing where the challenges are for your voice, makes this an amazing experience and one that will really help your singing quickly! ALL YOU DO IS CLICK ON THE LINK I SEND YOU--NO NEED TO DOWNLOAD ZOOM!

 
SIGN UP HERE FOR GREAT TIPS, DEALS, AND INFO!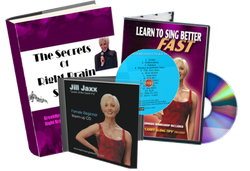 The Quick Fix Tool Kit has tools to fix every singing challenge!
                Tools for breathing correctly
                Tools for support
                Tools for power
                Tools for high notes
                Tools for pitch
                Tools for vibrato
                Tools for breaks and bridges
                And many more!