Performance Workshops
Find out secrets to instantly improve your singing and performing
Learn techniques the pros use to eliminate stage fright
Get individual coaching for your vocal abilities
Have an incredible breakthrough in your abililty to convey emotion
Increase your self-esteem in a very fun atmosphere!
One Time Only Or Six-Week Class-Limited Enrollment
Performance opportunity in the last class!
"I specialize in choirs or vocal groups—we do acting exercises, all kinds of fun things to increase the emotional connection to the material and get the group to synchronize and be able to completely inspire and lift their audience or congregation. But I've taught whole family groups too, and they inspire each other!"
    —Jill Jaxx
Contact Jill For More Information
      Check Out My Videos!        

 

 

        Follow Me!       

 

       Take Lessons!      

  

 

 
 
SIGN UP HERE FOR GREAT TIPS, DEALS, AND INFO!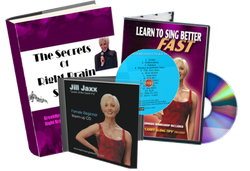 The Quick Fix Tool Kit has tools to fix every singing challenge!
                Tools for breathing correctly
                Tools for support
                Tools for power
                Tools for high notes
                Tools for pitch
                Tools for vibrato
                Tools for breaks and bridges
                And many more!