My Zoom Lessons bring voice lessons to wherever you are, and are incredibly effective!
 

The immediacy of the Internet and plus my inherited ability to see exactly what tensions are occurring combined with hearing where the challenges are for your voice, makes this an amazing experience and one that will really help your singing quickly! I am committed to my students having breakthroughs with each lesson, and the fun and empowering atmosphere that we both create will cause you to improve fast! I guarantee it or you don't pay for the lesson.

Contact Jill for more information
"Thank you for taking me to the next level of singing! After your Skype Lessons my voice became more flexible. In a short period of time you helped me to discover the potential of my voice and you fixed my problems very quickly. Besides, you inspired me to move on singing and creating!! You are professional and you put so much love and caring into your teaching. I'm very blessed and honored to work with you and always looking forward to a new Skype Lesson!!"
 -Inga Lukas

 All you need is a webcam and a free Skype download!
Download Skype HERE and you'll see how easy it is to learn to sing better fast!
SIGN UP HERE FOR GREAT TIPS, DEALS, AND INFO!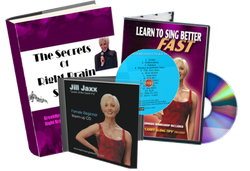 The Quick Fix Tool Kit has tools to fix every singing challenge!
                Tools for breathing correctly
                Tools for support
                Tools for power
                Tools for high notes
                Tools for pitch
                Tools for vibrato
                Tools for breaks and bridges
                And many more!