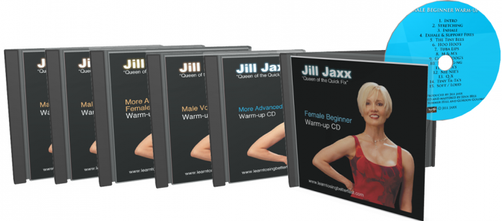 Male & Female Beginner Warm-UP CD
FOR BEGINNERS: only $11.95 each

Learn to inhale correctly

Quick Fixes for the exhale

How to "support" your voice


And fun exercises to quickly warm-up your "amp" (tongue, lips, jaws, and soft palate)

More Advanced Male & Female Warm-Up CD
MORE ADVANCED: only $11.95 each

Learn the exercises
that promote vocal
balance

Release tension and
realign your voice

More exercises for
correct air pressure

Fun agility exercises

Male & Female Vocal Rehab Warm-Up CD
VOCAL REHAB: only $11.95 each

    Amazing warm-ups that can soothe swollen or irritated vocal cords quickly, help you sing better if your throat is weak or sore, and re-balance any muscle tension in your throat or larynx. This is a MUST for anyone with reflux, sinus problems, or chronic throat irritation. You wont find these exercises anywhere else!

 
 
 
---
GET ALL 3 PACKAGE: SAVE OVER 15%
For only $29.95, you can have all three of these amazing and useful CD's. Be sure that you will be prepared for your next gig, no matter what stage of singing strength you are.
Happy Singing & Best Wishes—
Jill Jaxx
Downloadable Format--Free Shipping!