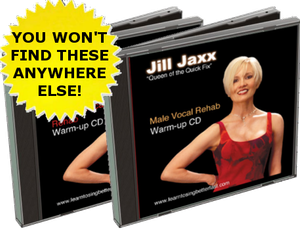 Male & Female Vocal Rehab Warm-Up CD
VOCAL REHAB: only $11.95 each
    Amazing warm-ups that can soothe swollen or irritated vocal cords quickly, help you sing better if your throat is weak or sore, and re-balance any muscle tension in your throat or larynx. This is a MUST for anyone with reflux, sinus problems, or chronic throat irritation. You wont find these exercises anywhere else!
Downloadable Format--Free Shipping!